Our Portfolio
The following chart summarizes our main product candidate portfolio.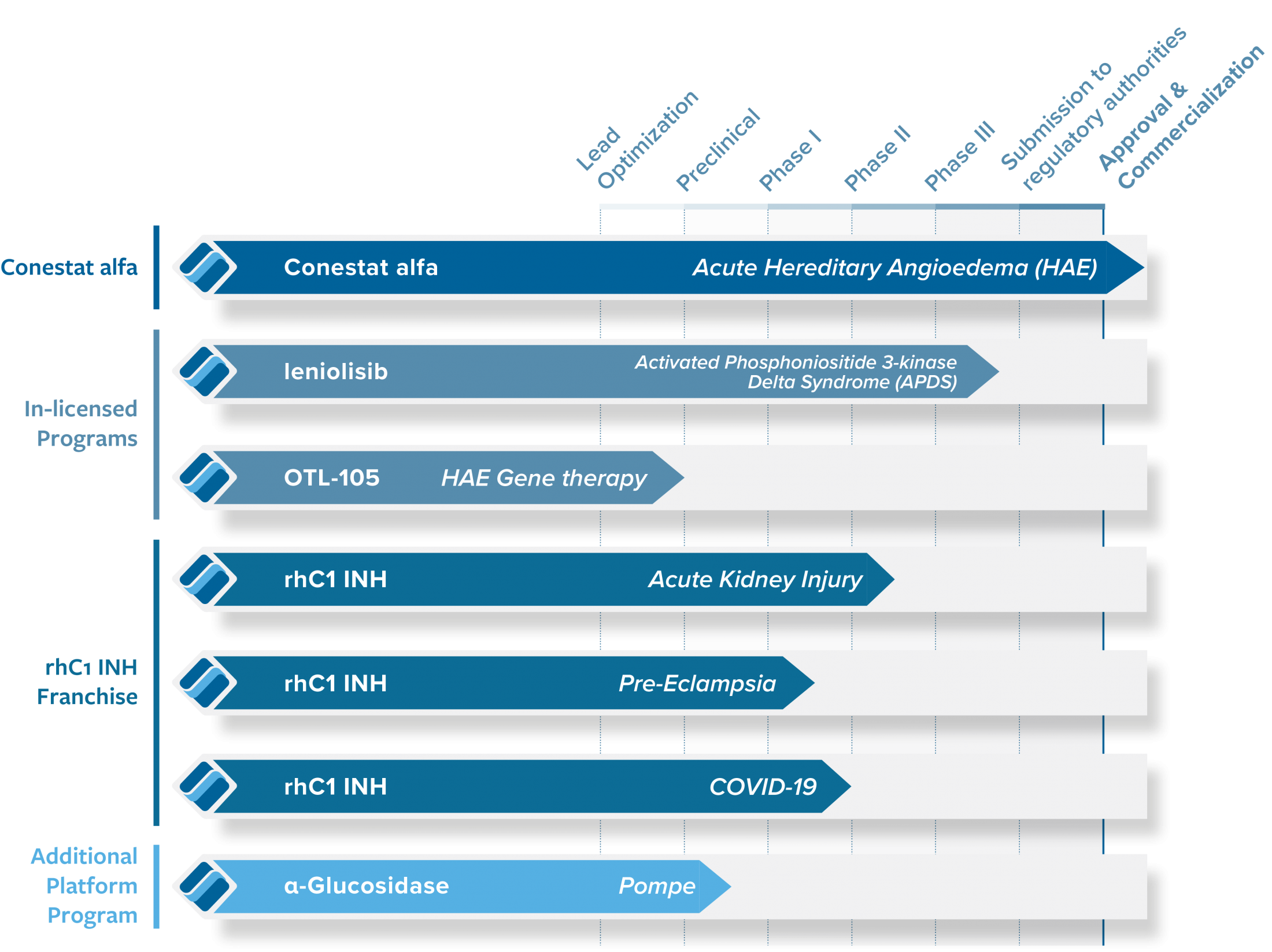 RUCONEST® for the treatment of acute HAE
Our lead product, RUCONEST® is an rhC1INH protein replacement therapy that is approved for the treatment of acute hereditary angioedema, or HAE, attacks. HAE is a rare genetic condition that occurs in between approximately 1 in 10,000 and 1 in 50,000 people worldwide. In the United States, the market for acute treatment is estimated to be between 7,000 and 8,000 patients for both acute and prophylactic treatment. HAE is caused by a deficiency of the protein C1INH. This deficiency leads to the uncontrolled activation of the complement cascade, resulting in the over-production of some mediators, leading to the leaking of fluid from blood vessels to the tissue space. The most common symptoms of an HAE attack are caused by overproduction of the bradykinin initiator protein, kallikrein, and thus excessive leakage of fluid into tissue spaces (edema or swelling). Patients may suffer bouts of excruciating abdominal pain, nausea and vomiting that is exacerbated by swelling in the intestinal wall. Airway, or laryngeal, swelling is particularly dangerous and can lead to death by asphyxiation. Untreated, attacks can last between 48 and 120 hours and can be fatal.
RUCONEST® has been shown to normalize C1INH effects in HAE patients. Returning C1INH activity levels to normal has been shown to be clinically relevant in HAE attack treatment. RUCONEST® irreversibly binds to several target molecules, including importantly the coagulation factor FXII and the protease kallikrein, which (when unbound) cleaves a plasma protein into bradykinin and other products. By binding to and chemically deactivating these molecules, RUCONEST® stops the production of bradykinin and all other mediators and thereby stops the HAE attack.
rhC1INH for the treatment of pre-eclampsia
We are developing a rhC1INH protein replacement therapy for the treatment of pre-eclampsia. Pre-eclampsia is a life-threatening multisystem disorder in pregnancies leading to maternal and neonatal mortality and morbidity, usually first appearing as hypertension and proteinuria. Treatments include termination of the fetus or premature delivery, which is often associated with high rates of mortality. Even if they can be born safely, consequences for the child can be severe, with growth restrictions, learning difficulties and moderate to severe disabilities affecting over half of such new-borns. We are currently conducting an open label, single-arm, multistage, multicenter Phase 1/2 study in late-stage pre-eclampsia in the Netherlands and Australia.
This study was initiated in 2019 but was halted due to COVID-19. Given these delays, we are evaluating how to proceed further.
rhC1INH for the treatment of acute kidney injury resulting from contrast medium
Acute kidney injury, or AKI, resulting from contrast medium is a form of kidney damage which occurs in stress situations such as when a patient is injected with contrast medium as part of a contrast-enhanced examination, for example a Computed Tomography, or CT, scan. AKI is a serious and expensive complication in the contrast-enhanced examination setting, where patients are often compromised following minor or major cardiac events. When AKI occurs, it can require dialysis and could lead to prolonged hospitalization or intensive care, which can result in poor long-term outcomes for patients and is extremely expensive. An investigator at the University Hospital Basel conducted a Phase 2 investigator-initiated study of rhC1INH in a double-blind, placebo-controlled clinical trial in 80 randomized patients at risk of AKI resulting from contrast-enhanced examinations.
Thirty-nine patients were treated with a placebo and 38 were treated with the product RUCONEST®, totaling 77 patients. Three patients did not receive the angiography that was required to take part in the trial. The primary endpoint of the study was urine NGAL peak change within 48 hours. Other secondary endpoints were cystatin C increase within 24 hours and troponin T peak change within 24 hours. The modified Intention To Treat, or mITT, analysis in the overall population revealed a clear trend (P=0.06) in favor of the RUCONEST® treatment. We observed significant results (p=0.001 n=30) in the relative NGAL difference in a subgroup of patients undergoing percutaneous coronary interventions, or PCI, such as stent insertion. Following this outcome, we have completed preparations for our new Phase 2b study of the effects of RUCONEST® in patients undergoing PCI accompanied by contrast-enhanced examinations.
This study restarted in April 2021. See our press release on the subject.
rhC1INH for the treatment of COVID-19
We are currently investigating the potential utility of rhC1INH for the treatment of severe pneumonia resulting from COVID-19 infection. In April 2020, we reported results from a compassionate use program at the University Hospital Basel, Switzerland, in which four male patients and one female patient (between 53-82 years of age) with COVID-19, suffering from related severe pneumonia, who did not improve despite standard treatment, including hydroxychloroquine and lopinavir/ritonavir, had been administered rhC1INH.
The results from our compassionate use program do not guarantee that rhC1INH will be deemed a safe and effective treatment for COVID-19. Extensive clinical testing and regulatory approval will be required before our rhC1INH will be approved for marketing for the treatment of COVID-19, if at all. The results of this compassionate use study were published in a peer-reviewed journal (Frontiers in Immunology).
Based on the results of the compassionate use program, enrollment commenced in a randomized, controlled, investigator-initiated Phase 2 clinical trial for treatment with rhC1INH in up to 150 patients with confirmed COVID-19 infections hospitalized with related severe pneumonia at the University Hospital Basel in Basel, Switzerland. We are also in the process of expanding this trial to centers in Mexico and Brazil. This clinical trial will study whether rhC1INH can control or stop the systemic hyperinflammation syndrome or cytokine storm.
We have also begun a clinical trial for rhC1INH for the treatment of severe pneumonia resulting from COVID-19 infection in the United States.
An investigational new drug application was submitted to the U.S. FDA by an investigation partner in June and taken over by us in August of 2020.
Given the rapidly changing landscape in COVID-19 medical need and therapeutic management, and the significant investments now required to develop a treatment, we are not planning any further studies with rhC1INH in hospitalized patients with COVID-19. We are encouraged by the findings from these studies, including the overall safety profile in acutely-ill patients as we consider further development of rhC1INH in patients with other serious diseases with unmet needs.
Next-Generation Enzyme-Replacement Therapies: Pompe
Enzyme replacement therapies, or ERTs, have been used to treat enzyme-deficiency disorders, such as alpha-glucosidase for Pompe disease. Utilizing our transgenic manufacturing platform technology, rather than traditional ERT manufacturing methods, we are developing ERTs that are designed to be less immunogenic than approved therapies. Our main initial ERT product candidate is alpha-glucosidase for the treatment of Pompe disease.
We are currently studying our alpha-glucosidase therapy in IND-enabling studies.
Leniolisib for the Treatment of APDS
We are developing our oral therapy, leniolisib (a phosphoinositide 3-kinase delta, or PI3K delta, inhibitor), for the treatment of activated PI3K delta syndrome, or APDS. APDS is caused by a mutation in the PIK3CD gene that increases activity of phosphoinositide-3-kinase delta, a promoter of activity in the immune system. APDS has an estimated prevalence of 1-2 patients per million. Leniolisib is a small molecule inhibitor of the delta isoform of PI3K delta. In our collaboration with Novartis, we are currently studying leniolisib in a double-blind placebo controlled randomized, registration-enabling Phase 2/3 trial followed by an open label extension safety trial which is currently enrolling patients in clinical sites in the United States and Europe. The trial is designed to enroll 30 patients with ADPS. To date, leniolisib was well tolerated in healthy subjects as well as the APDS patients during the Phase 1, first in human trial and the ongoing open label extension trial. The study was temporarily halted due to COVID-19 but has resumed.
Subject to COVID-19-related delays, data is expected in the first half of 2022, followed by review by regulatory authorities in the second half of 2022. If approved, the drug is planned to launch late 2022.
Taal aanpassen
Wilt u overschakelen naar een andere taal? Klik hier voor de Nederlandse website.