Other updates
Pharming CEO Sijmen de Vries wins Chief Executive of the Year Award
Pharming is delighted to announce that CEO Sijmen de Vries was the winner of the Chief Executive of the Year Award at the 2023 European Mediscience Awards in London on Thursday evening. Scroll down for the Dutch translation.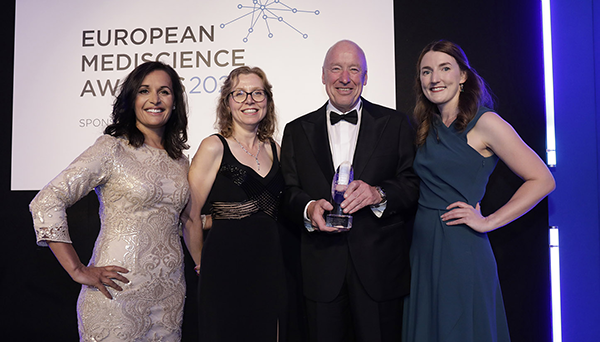 As you may be aware, the European Mediscience Awards is the largest annual gathering of private and publicly traded healthcare, biotech and life sciences companies in Europe. It celebrates achievements and recognizes successes in the sector. The Chief Executive of the Year award recognises an individual who has demonstrated exceptional leadership qualities in creating shareholder value through drive, vision and flair in taking their business forward. The award also acknowledges a leader who has recognized the importance of developing a management team and workforce in supporting corporate success.
Sijmen received this award in recognition for leading Pharming through preparations for the launch and commercialization of Joenja® (leniolisib), which was approved by the FDA in March 2023 for the treatment of APDS, and diversifying the business to a two-product commercial company with potential to expand into multiple geographies. Sijmen has also spearheaded the launch of Pharming's new strategy, with the Company reaffirming its commitment to its purpose of serving underserved rare disease patients as part of its aim to become a leading global rare disease company.
Congratulations to Sijmen and the entire Pharming team for this significant achievement! We look forward to building on this success as we work to transform the lives of patients with rare, debilitating and life-threatening diseases.
Many thanks for your continued support of Pharming.