RUCONEST®
RUCONEST® (conestat alfa) is a recombinant human C1 esterase inhibitor (rhC1INH) approved for the treatment of angioedema attacks in patients with hereditary angioedema (HAE) in the US, Israel, South Korea, all 28 EU countries plus Norway, Iceland and Liechtenstein.
What is HAE
HAE is a rare genetic condition which occurs in approximately 1 in 30,000 people worldwide. Symptoms include episodes of swelling in the hands, feet, abdomen, face and airway. Patients may suffer bouts of excruciating abdominal pain, nausea and vomiting that is exacerbated by swelling in the intestinal wall. Airway (laryngeal) swelling is particularly dangerous and can lead to death by asphyxiation. Untreated, attacks can last between 48 and 120 hours and can be fatal. Additional information about the condition can be found on the international HAE patient's association website at www.HAEi.org.
Medical need
C1 esterase inhibitor (C1INH) is a protein that naturally occurs in the human body. It belongs to the class of serine-protease inhibitors or serpins. It regulates several inflammatory pathways in the body by inhibiting certain proteins (proteases) that are part of the human immune system. Deficiency of functional C1 inhibitor leads to excessive activation of the complement system and other immunological and haemostatic pathways, giving cause to angioedema attacks. These attacks are characterised by acute and painful swellings of soft tissues. Administration of C1 inhibitor protein can normalize the low C1 INH levels and stop the angioedema attacks.
Pharming's therapy
Patients who suffer from HAE have a deficiency of functional C1INH resulting from a mutation in the C1 inhibitor gene. For them, Pharming's RUCONEST® provides a causal treatment with a well-established efficacy and safety profile. Our proprietary production and purification technology conform to GMP standards, allowing large scale, reproducible, high-quality product. RUCONEST® does not carry the risk of transmission of plasma related human infectious agents, as it is not isolated from human blood sources.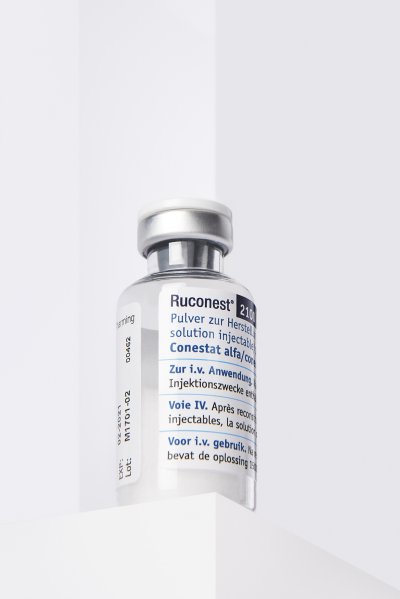 Distribution
RUCONEST® is distributed by Pharming in Austria, France, Germany, Luxembourg, the Netherlands, the United Kingdom and the United States of America. Pharming holds commercialisation rights in Algeria, Andorra, Bahrain, Belgium, Ireland, Jordan, Kuwait, Lebanon, Morocco, Oman, Portugal, Qatar, Syria, Spain, Switzerland, Tunisia, United Arab Emirates and Yemen. In some of these countries distribution is made in association with the HAEi Global Access Program (GAP).  
As of 1 January 2020 RUCONEST® is also being distributed by Pharming in the other EU countries as well as Serbia and Norway, and Pharming will hold commercialisation rights in Azerbaijan, Belarus, Georgia, Iceland, Kazakhstan, Liechtenstein, Russia, Serbia and Ukraine and the remaining countries in the Middle East region. Before 1 January 2020 these territories were licenced to Sobi. 
RUCONEST® is distributed in Argentina, Colombia, Costa Rica, the Dominican Republic, Panama, and Venezuela by Cytobioteck, in South Korea by HyupJin Corporation and in Israel by Kamada.