Acute Kidney Injury
Acute Kidney Injury (AKI), previously referred to as CIN. Contrast induced nephropathy (CIN) is a form of kidney damage in which there has been recent exposure to medical imaging contrast material without another clear cause for the acute kidney injury.
Millions of investigations are carried out each year using contrast medium to enhance views of pathology in vascular systems. The ability of each patient to clear such media through their kidneys varies.
Renal damage during CT and other contrast imaging is an important risk of such procedures. Complement activation in renal endothelial structures is often cited as one possible cause of contrast-related kidney damage.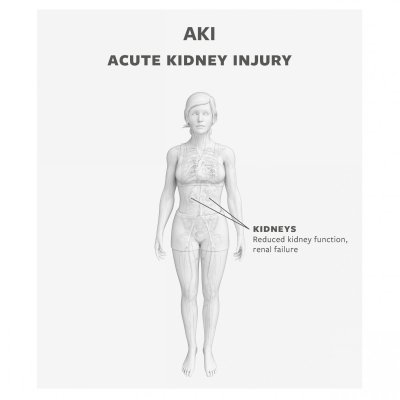 Positive Phase II results in Contrast-induced Nephropathy (CIN)
Positive results from a Phase II investigator-initiated study of RUCONEST® in patients at risk of nephropathy resulting from contrast-enhanced examinations.

In a double-blind, placebo-controlled study with 75 patients, RUCONEST® showed a statistically significant effect (p=0.038) in reducing Neutrophil Gelatinase-Associated Lipocalin (NGAL), the primary endpoint for the study and a generally recognized early marker of acute renal injury, in patients with diagnosed renal function impairment undergoing interventions enhanced with standard contrast media such as percutaneous coronary intervention (PCI).
Clear results in sub-group of patients (n=30) undergoing PCI.
Median increase in peak urinary NGAL concentration within 48 hours of 1.8 ng/ml compared with an increase of 26.2 ng/ml in the placebo arm (p=0.04).
Median percentage change in the peak urinary NGAL level within 48 hours of 11.3% vs 205.2% in the placebo arm (p=0.001).
Overall patients undergoing invasive procedures requiring high volumes of contrast media experienced a stronger benefit from the RUCONEST® treatment.
 
Next steps:
Initiate a clinical trial in H2 2019 with the Company's recombinant human C1 esterase inhibitor (RUCONEST®) to treat acute kidney injury in patients undergoing percutaneous coronary interventions accompanied by contrast-enhanced examinations