We are developing a rhC1INH protein replacement therapy for the treatment of acute kidney damage resulting from contrast medium. Acute kidney injury resulting from contrast medium is a form of kidney damage which occurs in stress situations such as when a patient is injected with contrast medium as part of a contrast-enhanced examination, for example a Computed Tomography, or CT, scan. In patients who have impairment of the kidneys prior to such examinations, the difficulty in clearing the injected contrast medium can result in further kidney damage which might be reversible, or which is irreversible and requires permanent dialysis or renal transplantation.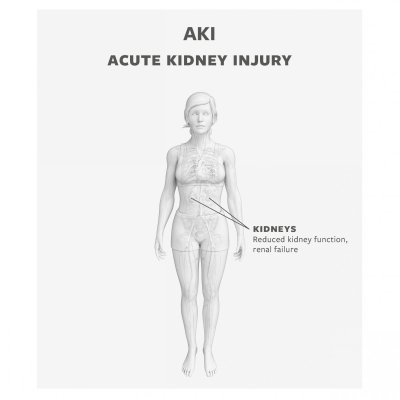 AKI is a serious and expensive complication in the contrast-enhanced examination setting, where patients are often compromised following minor or major cardiac events. When AKI occurs, it usually requires dialysis and often leads to prolonged hospitalization or intensive care, which is extremely expensive and often results in poor long-term outcomes for patients, or even death.
Contrast medium injury is responsible for 11% of cases of hospital-acquired renal insufficiency and is the third most common cause of renal failure after impaired renal perfusion and the use of nephrotic medications. AKI from contrast media is responsible for a third of all hospital-acquired AKI. In addition, AKI affects between 1% and 2% of the general population, and up to 50% of high-risk subgroups following coronary angiography or percutaneous coronary intervention.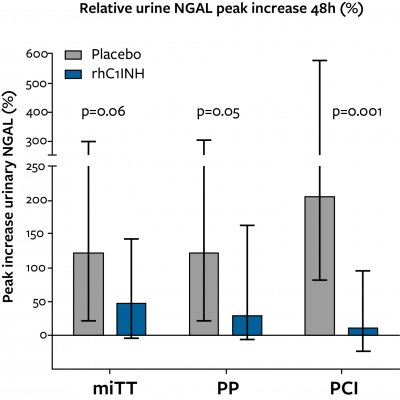 In October 2018, we announced positive results from a Phase 2 investigator-initiated study of rhC1INH in a double-blind, placebo-controlled clinical trial in 75 patients at risk of nephropathy resulting from contrast- enhanced examinations. The study was led by Dr. Michael Osthoff at the University Hospital Basel, Basel, Switzerland. In the study, patients were given either rhC1INH (<84kg: 50 U/kg; >84kg: 4,200 U) or placebo (0.9% sodium chloride).
In the sub-group of patients (n=38) undergoing percutaneous coronary interventions, or PCI, such as stent insertions, the intent-to-treat analysis in this group showed that patients on rhC1INH had a median increase in peak urinary Neutrophil Gelatinase-Associated Lipocalin, or NGAL, concentration within 48 hours of 1.8 ng/ml, compared with an increase of 26.2 ng/ml in the placebo arm (p=0.038). As set forth below, this corresponds to a clear difference in the median percentage change in the peak urinary NGAL level within 48 hours of 11.3% in the rhC1INH arm and 205.2% in the placebo arm (p=0.001).
Following this positive outcome, we have completed preparations for a new Phase 2b study of the effects of RUCONEST® in patients undergoing PCI accompanied by contrast-enhanced examinations. The Phase 2b study will also be initiated by us and led by Dr. Osthoff.
Here you can find additional information on the AKI study;
https://clinicaltrials.gov/ct2/show/NCT04912141?cond=Acute+Kidney+Injury&cntry=CH&draw=3&rank=11
This study restarted in April 2021. See our press release on the subject.
Taal aanpassen
Wilt u overschakelen naar een andere taal? Klik hier voor de Nederlandse website.